Current Employment Opportunities
The following opportunities are available at Parallel 44 and Door 44. To apply, please send your resumé to info@parallel44.com
Part Time Tasting Room Associate
Job Description:
If you are passionate about customer service and love working in a fast paced environment, then this is the job for you!  Our Tasting Room Associates are responsible for greeting and serving our customers and all of their wine needs! This position is key to growing our brand and increasing sales and profitability. The right candidate will have passion, energy and creativity while driving profitability and brand success, and promoting excellent customer service in our tasting room.  
Requirements and Expectations:
Must be 18 or older.

Available to work a flexible schedule, including weekend and special events. 

Energetic, motivated, self-directed personality.

A passion for wine, and a positive, team-oriented attitude.

Strong interpersonal skills and a passion for working with people, and a focus on and passion for superior customer service.

Ability to prioritize and manage multiple tasks.

Ability to communicate clearly and concisely both verbally and in writing.

Strong computer skills and ability to operate point of sale

Complete Responsible Beverage Servers training course as required by law

Ability to stand for 8 or more hours at a time, and lift up to 40 lbs.
 To apply, please send your resumé to info@parallel44.com
Winemaking & Grape Growing Associate
Job Description:
Founded in 2005 by owners Steve Johnson and Maria Milano, Parallel 44 Vineyard &Winery is located east of Green Bay, Wisconsin in the Wisconsin Ledge AVA. Door 44 Winery, our sister winery, was established in 2013, located in the heart of Door County. Parallel 44 and Door 44 continue to be a leader in producing quality wines and raising the profile of Wisconsin wine. Known for its focus on cold climate varietals, our wines continue to win the highest awards for wines from our region, most recently Winery of the Year at the International Cold Climate competition. Our wines are sold direct to consumer at our two tasting room locations, online and hundreds of retailers in Wisconsin. We also have a large and growing wine club.
Parallel 44/ Door 44 Wineries are actively looking for an energetic, detail-oriented, and self-motivated individual to assist our owner in grape growing and winemaking operations and activities, sanitation, laboratory analysis, quality control and reporting, and record-keeping, as well as help with brand
promotion. We are a small business and employees are expected to be flexible and help in other areas as and when needed. This full-time position covers a full range of grape growing and wine making activities and reports to the Owner. Company standard benefits include health and dental coverage, holiday and vacation pay, and retirement savings plan is available. In addition to offering competitive compensation and benefits, the position offers a chance to build experience at one of Wisconsin's original wineries.
Duties & Responsibilities:
This is a higher level position that assists with all activities in the creation of our wines, from the growing of our grapes to the bottling of our wines under the direction of the Owner as follows:
Assist with all activities in the vineyard, including but not limited to: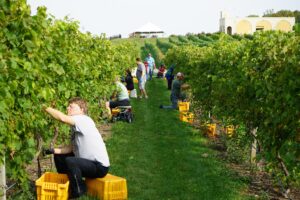 Pruning, training of the vines, spraying, and more
Replacing/repairing wires and posts
Working with newly planted vines
Must have the ability to get spraying license
Oversee and participate in all aspects directly related to winemaking:
Plan production quantities with owner/ winemaker.
Coordinate pick dates with owner/ vineyard manager.
Coordinate harvest day operations in the winery.
Crush pad operations: grape receiving and processing.
Coordinate delivery of grapes and juices from others.
Perform chemical analysis on wines and conduct all lab work
Conduct all stages of wine production including fermentations and filtrations.
Create blends for and coordinate tastings trials.
Coordinate bottling and labeling of wines.
Coordinate wholesale orders.
Oversee and participate in all aspects generally related to winemaking
Keep a safe, clean, organized production area.
Keep state and federal records, as well as required in-house records.
Remain up-to-date on all compliance issues related to winemaking.
Order and maintain inventory of supplies related to winemaking.
Obtain TTB Formula and COLA approvals.
Maintain all winery equipment and systems and work to become on-site specialist for these systems.
Maintain an already strong relationship with other industry partners.
Provide expertise on purchasing new equipment when needed.
Coordinate entries to wine competitions.
Treat visitors in the production area with respect.
Conduct tours and serve as a PR person regarding winemaking activities when needed
Qualifications:
Minimum of 3 years of vineyard/winemaking experience
Strong work ethic, willing to work long hours during harvest and bottling. (Vacation time not available during these peak periods.)
Able to learn quickly. Must be a self-starter, detail oriented and a critical thinker.
Enology degree preferred, or Bachelors or Associates degree in a related field preferred.
Experience with MS Office Suite. Strong Excel skills preferred.
Able to climb, bend, stand for prolonged lengths of time and able to lift 50lbs.
Able to work with a small team in a supportive and positive atmosphere.
Compensation:
Commensurate with mid-western industry standards, and work experience.
Commencement:
To apply, please email the following to steve@parallel44.com Please put 'Winemaking and Grape growing position' in the subject line.
Cover letter describing your interest and qualifications
Resume
Reference list – including at least 2 industry work related references.